We train dogs. However, we see our job as much bigger than that. We help people. We want dogs and people to experience the best relationship possible based on fairness, clarity and balance. We use tools that we feel get the dog/handler team to the best place.
Unlike electronic collars from 15 years ago, modern style collars are extremely adjustable and should be introduced to the dog at a very low level. Paired with a clicker and positive reinforcement training, it can be amazing tool to provide clear communication. It can teach a clear YES/NO to the dog, as well as off-leash directional commands such as "come to me" or "go away from me" to a certain location.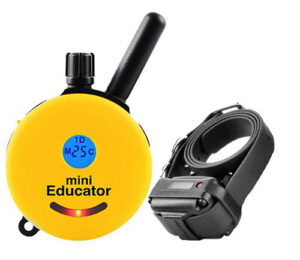 We have seen some amazing transformations using this tool – a reliable recall from dogs that haven't been able to achieve it otherwise, to reactive dogs who previously lived a life shrouded in confusion and fear. But the most amazing change is the improved relationship between the dog and their human. Because we train the human as much as we train the dog, our clients are finding new ways to enjoy their dogs – from off leash romps in the woods, fields and dog parks to bringing their rehabbed reactive dog to new places they never thought was possible. Their lives have become larger than just the backyard, which is pretty cool.
To some in the dog training industry, the words "electronic collar" can elicit a strong negative emotional response. I cannot speak to their perceptions; except that that is surrounded by inexperience and a one-dimensional view of a very valuable tool.
Bottom line: We believe that dogs are most successful when information is given in a clear and consistent way. We are always fair to the behavior and we use tools that create fair and humane learning. We want to see dogs have a wonderful quality of life with the people who love them. We strongly encourage anyone considering using an electronic collar to seek out professional help.
Please feel free contact us to talk further about our training services.